Download
Settlement files are generated for each payment run and contain all transactions and fees for a transaction. They are provided in the formats CSV.
The settlement files can be retrieved through our ORCA interface or SFTP connection and are generated for each payment run.
---
ORCA
Please login into ORCA and click on the billing icon in the left sidebar:

attention

The button may not be displayed due to missing permissions. Please contact the person in your company who is responsible for the administration of ORCA users.
You should then see a view where you can download the settlement reports, separated by payout dates, in CSV format: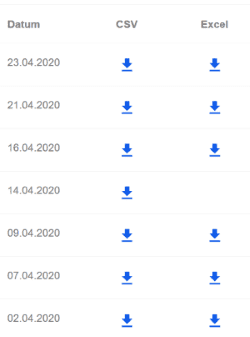 ---
SFTP
To set up the SFTP connection, please follow these steps: SFTP
The settlement files are stored on the SFTP server as a CSV file under the following path: /from_ratepay/settlement_report/
Each settlement file will be removed from this path after 30 days and copied to /archive/settlement_report/